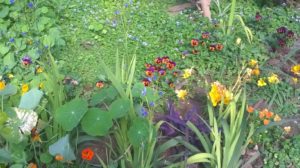 Coaching is a coat of many colours – with different hues to suit different clients with different needs.
Coaching with me gives you time and space to discover who you really are, what you truly value, what matters to you the most, where you draw the line and what lines you're ready to jump over.
Allowing time and space to slow down – to S T O P – can seem impossibly sinful.Yet the space to look at what's been stopping you is essential if you are to:
Thrive, not merely survive
Contribute your best self, not merely a shadow of what you could be and do
Feel fulfilled, engaged, energised, liberated and FREE
As an HSP (highly sensitive person) I have a special interest in helping you to find your voice and speak, to reveal, honour and nurture you true self, to shimmer and shine with vitality and ease – and to be as good at pleasing you as you may be at pleasing others.
To all outward appearances, you may be highly successful with a great income and career, family, business, home and yet still feel something is missing, mis-fitting inside.
You might feel you've been under-performing – not reaching your obvious potential and you've decided that now is the time ….
You don't have to be an HSP to work with me – but I work with a values-focused, informal "organic" style so if you're looking for a strictly linear, goal-focused approach, I may not be a good fit for you.
Using pure coaching and "integrated" services – combining coaching with writing and editing, for example, I've helped clients to kickstart creative ventures, write copy for websites and directory listings and overcome fear of public speaking.
My base is currently London, UK – but technology can assist if we only share virtual space.
Either way, I shine a light as you navigate new paths. I offer empathy, warmth, intuition, sensitivity and a playful lightness of touch as you build solid foundations, ready to fly.